Does a modern, multi-functional ship management software take effort to train to use? It's a question that many shipowners are confused about when considering using ship management software or not. Let's check out whether WAYL is easy to use or not and discover many outstanding features of WAYL.
Is WAYL easy to use?
WAYL is always kept simple and self-explanatory. Your time is precious, and learning new software may be a difficult experience, so WAYL was designed to be very simple and self-explanatory for all users. No previous experience is required, and it offers all the help that shipowners need.
Enjoy WAYL ship management software... It's easy...
There is no requirement for prior experience.
There is no need for additional training.
Use the provided setup template to get started immediately.
Examine the Getting Started page.
All guide videos are available in the Video Library.
For further information on a variety of topics, consult the User Guide.

Outstanding features of WAYL
Besides the easy usage of WAYL, it also brings you many considerable advantages, such as:
Maritime management
Managing and maintaining your fleets is a big aspect of running a maritime business. As a result, your ship management software should provide you with a full picture of your fleet, allowing you to track the availability, status, and conditions of each ship or boat. WAYL will help you with all these managing functions.
Tasks Order Management
Maintenance management sometimes necessitates a large amount of paperwork. You can organize maintenance chores and handle work orders without using paper or spreadsheets if you have ship management software WAYL.
With a few clicks, you may also produce estimates and task orders. WAYL has the capability of storing client information, allowing you to check previous transactions and billing information. It also includes configurable templates for creating reports and tracking the status of work orders. This characteristic is critical for a system that effectively manages marine safety. It streamlines your maintenance administration and guarantees that you and your customers follow all applicable maritime safety standards.
Nonetheless, the software may help you manage your fleet in a variety of ways. You'll also need to employ or collaborate with the proper personnel who understand how to operate boats and ships, such as industrial engineering specialists.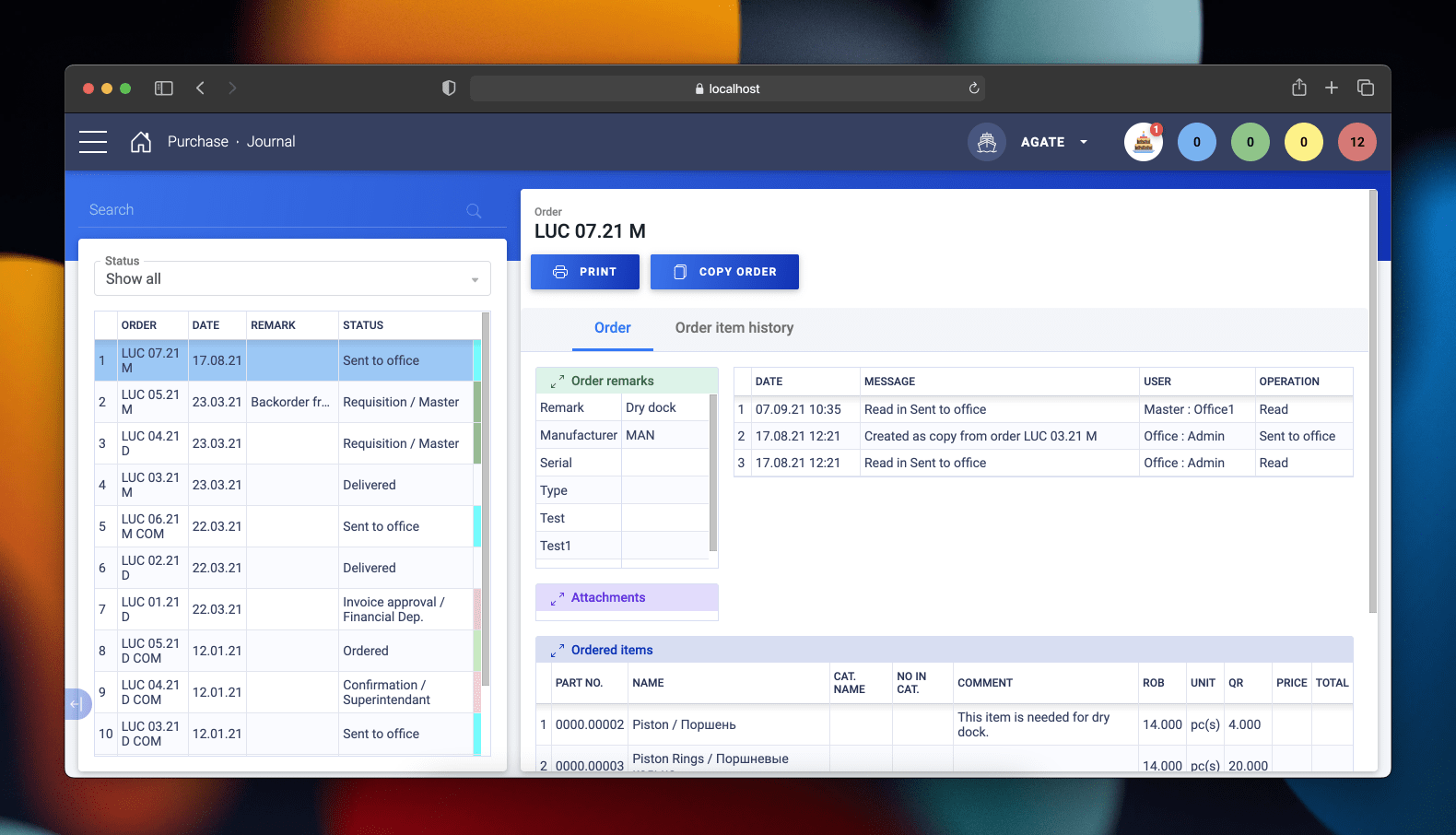 Inventory management
Over time, boat components can deteriorate. To minimize unforeseen delays, downtime, and accidents, make sure you always have sufficient spare components available. As a result, inventory or components management is an important aspect of WAYL's management system.
You can keep track of your component inventory, orders, and purchases using WAYL. It informs you how much of a specific part is in stock so you don't overstock or understock your inventory. It can also assist you in creating purchase orders for items you don't have and sending them directly to your vendors
WAYL has all the necessary functions of the best ship management software. All functions are optimized, easy to use.